Summer Temporary exhibitions

2016 - MADE in Normandy, Gallo-Roman crafts
2015 - Music during Antiquity
2014 - Flint and graffiti: Eure from the Neolithic era to… yesterday
2013 - Roman fashion
2016 : MADE in Normandy. Gallo-Roman crafts

"MADE in Normandy. Gallo-Roman crafts "
From June the 18th to September the 18th 2016
Exhibition boards, archeological items and reconstructions display the know-how and the skills of the gallo-roman artisans 2000 years ago.

How did they make items of bone, leather, clay, stone or wood ? Our new temporary exhibition shows the results of several archeological researchs in the area to explain the methods used during the Antiquity.


2017 - AVE COMICS ! When comic books meet Antiquity
Temporary exhibition from July the 1rst to September the 17th 2017
AVE COMICS ! When comic books meet Antiquity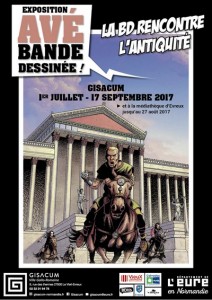 Two locations for one exhibition : Gisacum and the Evreux local library.
Borrowed from the Vieux la Romaine museum in Calvados (Normandy), this new exhibition is for everyone. It presents the different representations of Antiquity in comic books and graphic novels, published from the 1940s to the present days.
The exhibition mentions the classics of its kind (Alix, Murena), the new ones (Héraklès, Les Ombres du Styx, Arelate) and more.
Various themes are explained : misappropriation, retraining, search for historical truth, mythology…
For the first time, an aera dedicated to Gisacum represented by local comic books authors, presents exclusive pages from the new comic book "Ad victoriam, Gisacum's champion" and drawings of the gallo-roman monuments (baths, temple). The comic book will be released at the end of August during the Eure comics festival. The purpose is to illustrate the partnership between archeologists, authors and artists to creat a realistic image of gallo-roman times.
Cartoons, comics books, graphic novels and various games completes the visit.